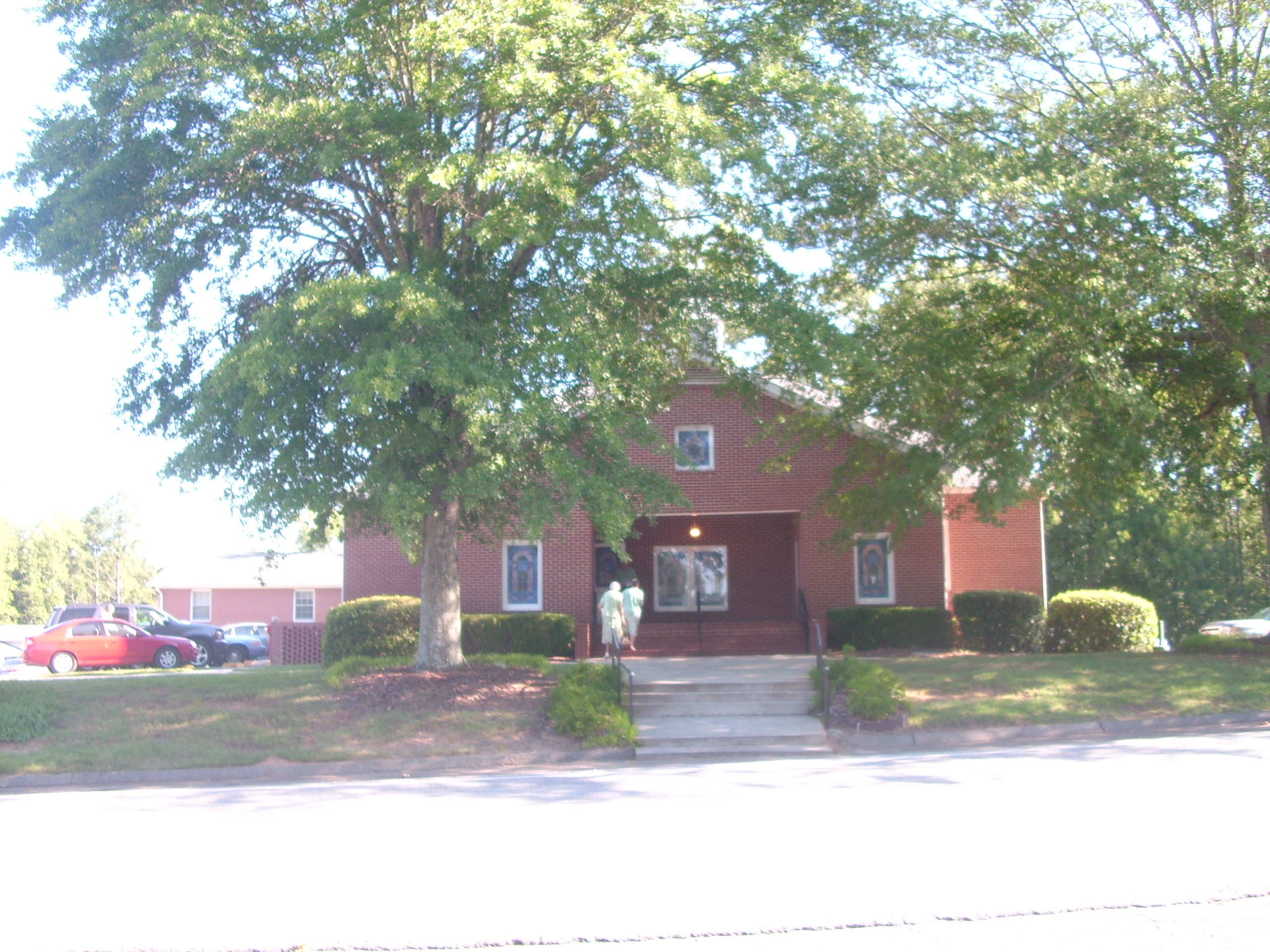 Friendship Baptist Church
of Forsyth County, Inc.
Established in 1840
Cumming, GA
Friendship Is Reaching Out
Pastor: Rev. Ricky Byrd
Sunday School each Sunday at 9:45 a.m. Worship Service each Sunday at 11 a.m. There are classes for all ages.
Glory Bound Bus Ministry goes on Wednesday evenings and Sunday mornings.
Join us at Sunday School and for Worship Services. There are classes for all ages. You will be blessed.
Friendship now has a Facebook page to keep everyone updated about events happening at Friendship. Even if you are not a Facebook member, you should be able to see this page at Friendship Face Book
It's summer time with many wonderful events taking place. Summer Revival Preparation Week will be July 5-12, 2015. Rev. Byrd has challenged our church members and attenders to pray every day at 7:14 a.m. and/or 7:14 p.m. for our revival services next week. Read 2 Chronicles 7:14 during this time as you pray for the lost, our country and its leaders, our US troops, and one another. There will be a Prayer Walk on Saturday morning beginning at 8 a.m. at the Sawnee Mountain Preserve Park on Spot Road. Also, Friendship members will be working at the Hightower Food and Clothing Bank on this morning and praying for those as well. We look forward to having a great revival in our church this summer.
Summer Revival will be held on July 12- 18, 2015 with 11 a.m. and 7:45 p.m. services each day. Our guest preacher will be Rev. Allen Dixon. Please join us and be praying for our revival. We will have special singing at most services. We invite everyone and especially all our senior Friendship folks to join us for lunch on Wednesday July 15, 2015, immediately following the morning service. Bring a covered dish and/or dessert and enjoy great fellowship. Youth services will be held on Friday evening, July 17, 2015, with pizza at 6 p.m., checking out the new family life center classrooms, and special singing before and during our Friday evening service. Please pray for our services.
Vacation Bible School was a wonderful success with around 270 people attending some time during the week. We learned much and enjoyed a lot of fun and fellowship.
Mark your calendars now for our Ladies Night Out conference on August 14, 2015, beginning at 6 p.m. with refreshments. Our guest speaker will be Ronda Rich which will begin at 7 p.m. In order to plan for enough food for our ladies and plan for enough conference space, we will have tickets for a $10 donation. We are very excited about our fourth Ladies Night Out Conference!!
Happy 175th Anniversary to Friendship Baptist Church that was established and constituted on February 28, 1840. There will be different events planned throughout this year in honor of this special year. The Official Friendship 175th Anniversary Celebration took place onMarch 29, 2015. It was a fun filled celebration that began with a balloon release at 10 a.m. in memory or honor of someone special to Friendship. We were excited to have all our living pastors attend the event. Rev. Jeff Hawkins spoke about his great great grandfather who was our first pastor. Rev. Bud Sutton and Rev. Lee Gaddis spoke about how Friendship was when they were our pastors. Rev. Ricky Byrd talked about our church today. Rev. Ronnie McCormick joined us for lunch and fellowship. We had a catered lunch in the Family Life Center. Then we had a historical display and slide show about FBC to view in the Family Life Center as we remember "The God Who Was, Who Is, and Who Is To Come" at Friendship Church. You can find some pictures of the event on Friendship Facebook page.
At last all the bricks are laid from the big fundraiser that the Pathfinders Sunday School Class sponsored to raise funds for the Family Life Center. Please see an attachment of a map of where the bricks are located. There are duplicate bricks that were already laid before we realized it and some of the bricks were incorrect. Those bricks that were corrected are the last ones on the list and were laid in March 2015.Brick Map Layout
Friendship is located at 2250 Friendship Circle just west of Sawnee Elementary School and off Canton Highway (GA Hwy 20). Mailing address is: P O Box 3180, Cumming, GA 30028 and phone number is 770-887-8844
Contact Janice Tallant at janicetallant@yahoo.com or Rev. Ricky Byrd at pastor.rbyrd@gmail.com for more information.