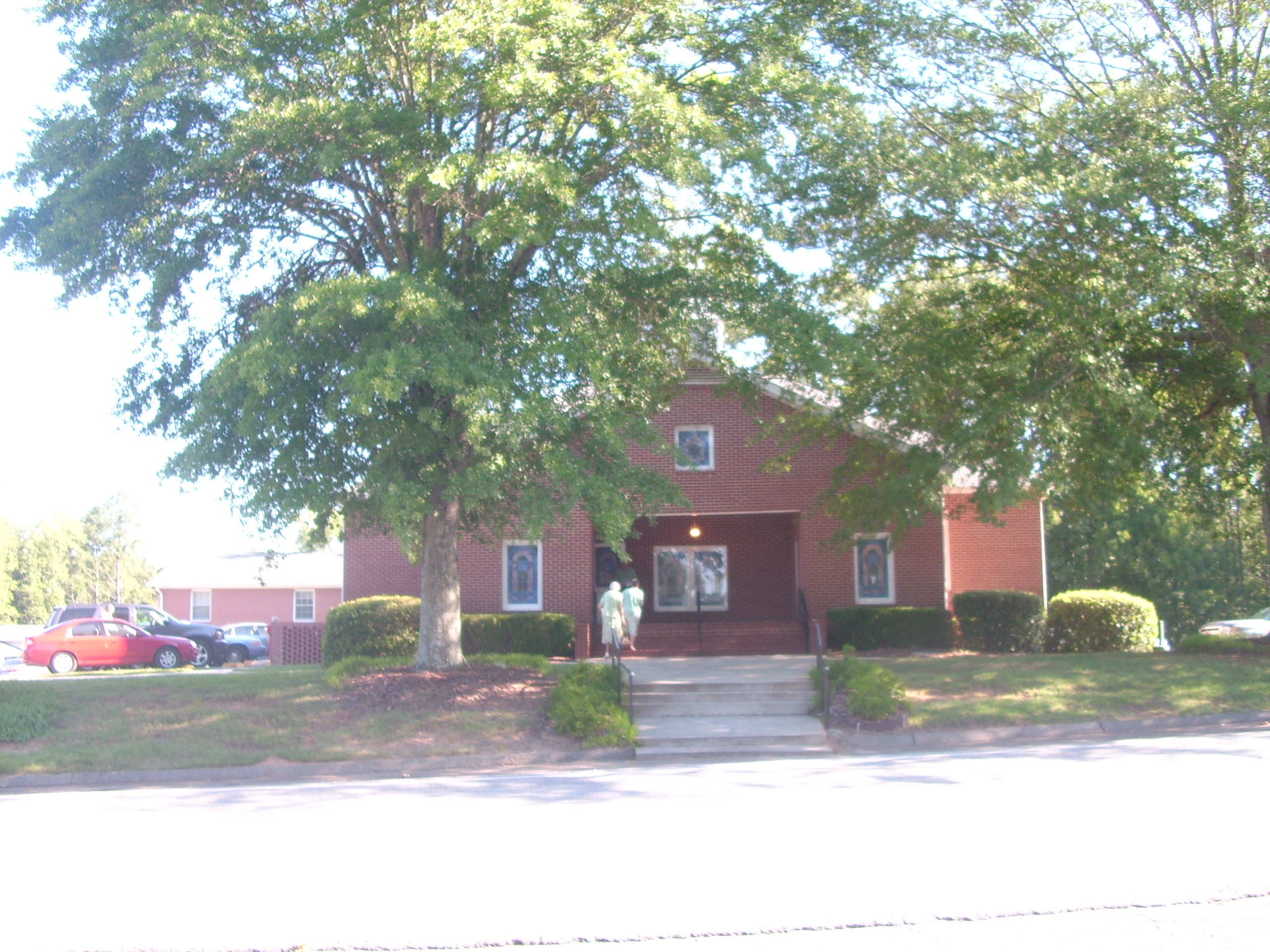 Friendship Baptist Church
of Forsyth County, Inc.
Established in 1840
Cumming, GA
Friendship Is Reaching Out
Pastor: Rev. Ricky Byrd
Bible LIFE Groups each Sunday at 9:45 a.m. Worship Service each Sunday at 11 a.m. There are classes for all ages.

Friendship is located at 2250 Friendship Circle just west of Sawnee Elementary School and off Canton Highway (GA Hwy 20) about 4 miles west of Cumming, GA.

Glory Bound Bus Ministry goes on Wednesday evenings and Sunday mornings.

Join us in Bible LIFE Groups (Sunday School) and for Worship Services. There are groups for all ages. You will be blessed.

Friendship has a Facebook page to keep everyone updated about events happening at Friendship. You also can see pictures of different events that are happening at Friendship. You will find videos of special singing on most Sundays as well. Even if you are not a Facebook member, you should be able to see this page at Friendship Face Book
Friendship continues to be very busy in 2017 both in the church and in the community spreading the Good News of Jesus Christ. Please read about some of the highlights of what is happening in 2017.
Summer has arrived at Friendship and that brings much excitement to our community. Vacation Bible School is June 4-8, 2017 from 6:30 to 8:45 p.m. We are providing dinner this year from 5:30 to 6:15 which is free to children and $5 for adults. Our theme this year is "Over the Moat". Join us as we go back many years ago and hear about kings in the Bible.
All Wednesday evening activities at Friendship have concluded for the past school year and will begin again in August 2017.
Friendship has been holding Summer Revival for decades and has been held the second week of July since back in the 1980's. This year our revival will be on July 9 through 15 at 11 a.m. each morning and 7:30 p.m. each evening. Rev. Caleb Byrd will be assisting his father, Rev. Ricky Byrd this year. We ask all to be praying for our revival. We will have lunch on Wednesday following the worship service. It is for all ages and we especially ask our seniors to join us on this day.
Our Super Seniors meetings have continued to meet in our new Senior Center, beginning at 12 noon. Here are the scheduled times for our next meetings in our Senior Center: June 15 (salads and desserts), August 15 (brown bag lunch), September 14 (Italian), October 10 (Mexican), November 14 (turkey and trimmings), December 14 (pot luck). We are planning to have fun times at Lake Lanier on October 26. See our new link on left for pictures from last sessions.
Upcoming Events at Friendship in Summer 2017:
Church Camp will be held on July 28-30, 2017 and Camp Pinnacle. There will also be services at the church for those who do not attend the church camp.
Friendship's Annual Car Show will be held on Saturday, August 5, from 9 a.m. to 2 p.m.
The Friendship WMU is sponsoring its Sixth Annual "Ladies Night Out" on Friday, August 11, 2017 beginning with a full catered meal with coffee and homemade desserts at 6:30 p.m. Brenda Sams, local author of two year long devotions books, will be our guest speaker. Tickets for this event will be $20 and can be obtained from any of the WMU members. You may email FriendshipWMU@gmail.com for more information. Please tell other ladies about this special event.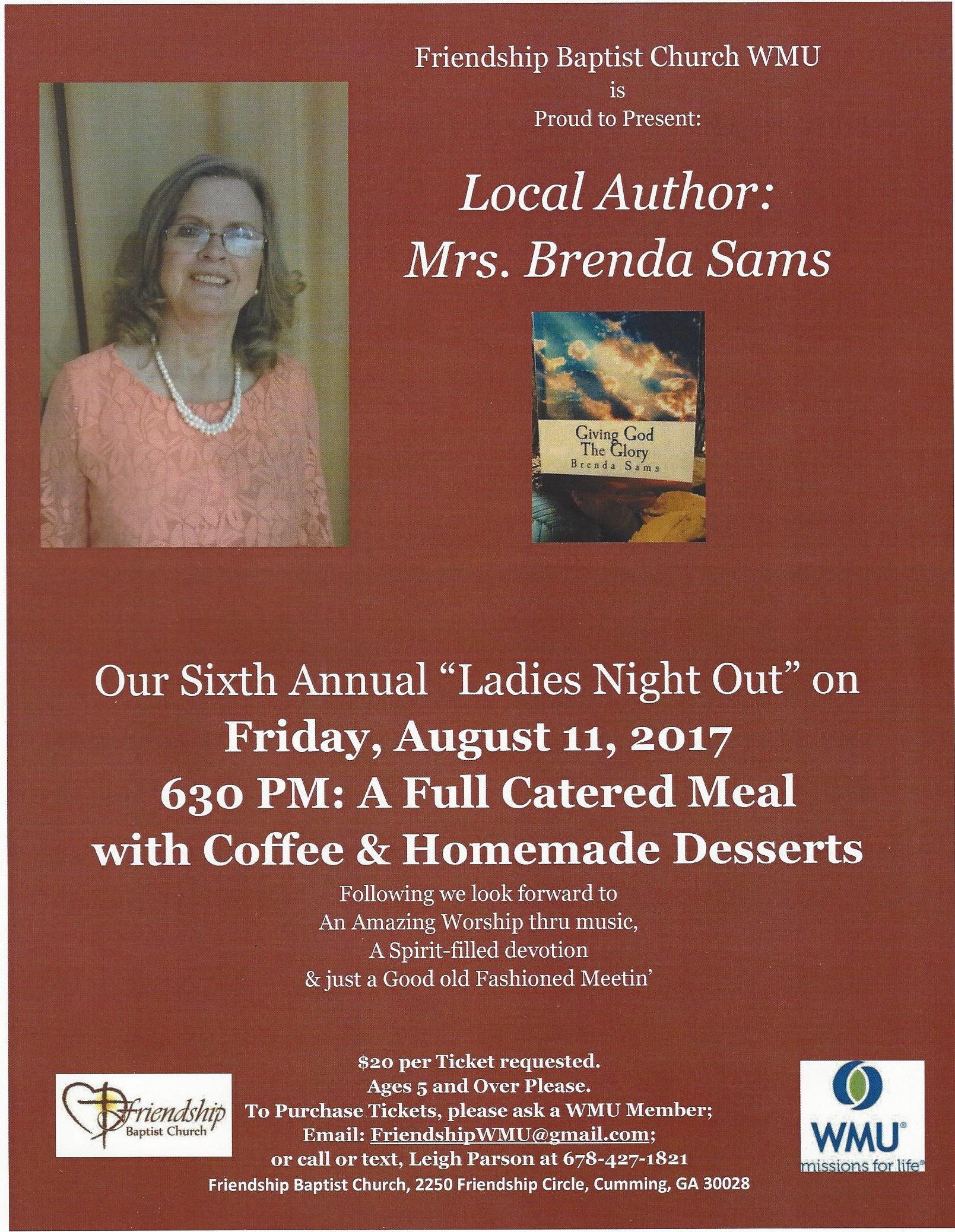 Friendship is located at 2250 Friendship Circle just west of Sawnee Elementary School and off Canton Highway (GA Hwy 20). Mailing address is: P O Box 3180, Cumming, GA 30028 and phone number is 770-887-8844
Contact Janice Tallant at janicetallant@yahoo.com or Rev. Ricky Byrd at pastor.rbyrd@icloud.com for more information.